The world is changing rapidly. To stay competitive, enterprises must be prepared to embrace IT transformation in their operations, leverage enterprise data in new ways, and rethink the management of IT systems. The future of IT brings unprecedented opportunities for the best-prepared companies.
In this article, we will see how new technologies can be adapted to our companies to avoid becoming obsolete. In addition, we will see how to manage our company for these future changes. Let us see:
What is the use of artificial intelligence and automation in companies all about?
Why IT services are essential?
What are the IT area tools?
Main problems in the IT area
What has been the evolution of its services?
How to prepare for the digital future?
1. What is the use of artificial intelligence and automation in companies all about?
When it comes to the future of IT, companies are starting to leverage the value of AI and automation. Whether in their supply chain, product development process, or operations. Artificial intelligence can help companies predict (and improve) outcomes by finding patterns in huge volumes of previously untapped data.
Both structured and unstructured. This information helps decision-makers identify new markets and products. It optimizes pricing, improves forecast accuracy, and much more. Many companies think of AI as working in the data center, analyzing information and long-term trends.
While this practice is certainly of great value, a growing number of companies are using AI at the perimeter (on their equipment, on manufacturing lines, in their infrastructure). This aids automation and other real-time processes.
For example, computer vision can identify defects on a production line, simplifying quality control. Autonomous anti-virus robots disinfect surfaces in hospitals, helping patients and healthcare staff to avoid dangerous pathogens. So we still have a good future in IT.
1.1 Why are there problems when searching for digitization?
The future of IT goes hand in hand with the automation of services, which would be digitization. The quest for digitization brings changes and new problems for business leaders. Coupling new technologies with legacy systems or changing the established business culture to meet the new challenges is one of the biggest business challenges.
Innovation is the constant search to incorporate, through technology, new aspects to optimize and continuously improve its processes. Since digital transformation is not a static process and companies must be constantly updating and improving, betting on technological innovations, there are many challenges to overcome.
One challenge in the area will be to take advantage of all the information available in big data for the benefit of the company. With IT services, it will be possible to implement appropriate tools to extract practical knowledge and apply it to their reality.
The trend of a more participative customer role makes it urgent to change the approach to improve the customer experience and achieve greater customer satisfaction. To succeed in today's marketplace, the CIO must be responsible for regularly monitoring customer service messages and calls and participating in user forums to hear direct feedback.
2. Why IT services are essential?
You can save time and money when hiring IT solutions. IT reduces the cost of performing certain tasks thanks to the automation of many processes such as payments, invoicing, and warehouse control. And, by extension, employees have more time to devote to other tasks focused on the personal growth of the company.
An IT service allows coordinating work teams that are in different geographical locations, which makes it much easier for employees to communicate via email or directly via Skype or WhatsApp. Working with a single database that is always up to date means that any changes made to a client can instantly reach all members of the team.
IT makes it possible to attract potential customers who are hundreds of kilometers away. It provides customer service without the need to be face to face with them, solving their doubts and setbacks via the Internet. Tools such as e-mail, newsletters, or online training help to improve the company's image and provide better service.
IT provides cybersecurity in case of any threat. Technology is advancing and, with the same speed, so are such threats. It offers an unbeatable positioning within the network, giving visibility to our company and optimizing our portal to the maximum. The future of IT will allow us to do this and much more.
2.1 What are the IT services that cannot miss in your company?
The future of IT services in our company is important. It is very useful to be aware of the possibilities offered by computer services for the proper functioning of a company. Putting yourself in the hands of experts is always the best option when it comes to making a decision related to a specific area.
Project development, IT support, device management. An expert in the field will help you avoid potential problems and propose an appropriate solution to them. Application development, specialization, and differentiation from the competition are essential in today's business world.
Technical service. If something goes wrong, it is best to contact an expert computer technician as soon as possible. This will save unnecessary loss of time and, above all, minimize possible damage.
For all these reasons, IT services can be your best ally, so it is advisable to keep them up to date and use them as a better tool to maximize the profitability of your business and stand out visibly in such a competitive world.
3. What are the IT area tools?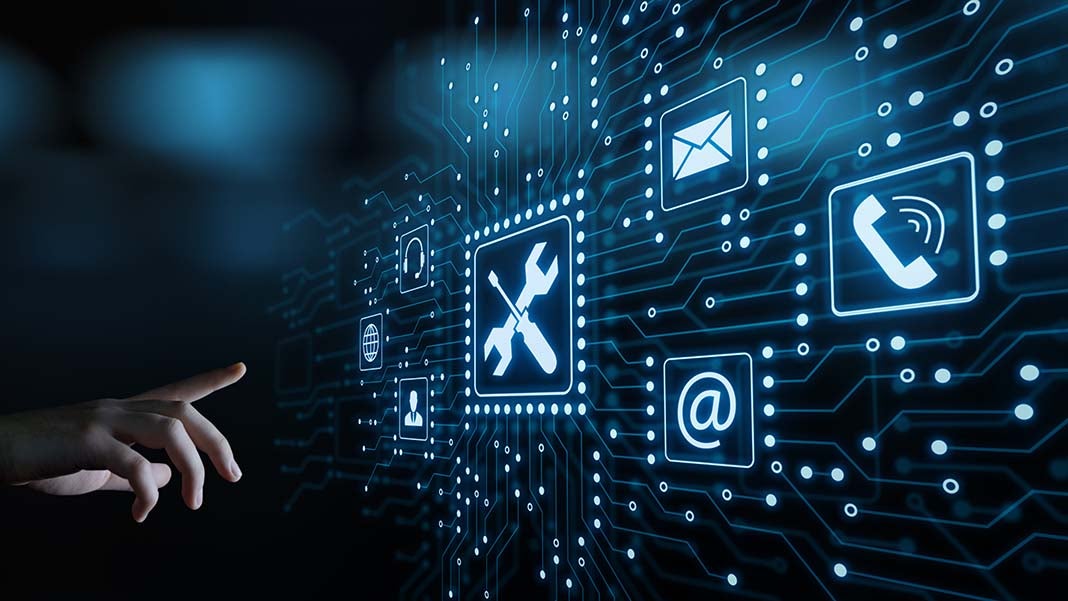 Cloud computing. The possibility of information in the cloud allows companies not to worry about the limits of space, since they are now present on the internet and protected against the dangers of physical contingencies. It allows for improving the systematization and subsequent analysis of information.
A big data access. This tool allows companies to have access to large amounts of information relevant to their activity, which, when selected and evaluated, can help in the decision-making process. Big data allows us to collect a huge amount of information. It is one of the most important inventions that are part of the future of IT.
Artificial intelligence. Companies do not delay their implementation because it can improve the management and speed of multiple processes. Voice recognition, machine learning platforms, or robotic process automation are some of its applications.
3.1 cloud infrastructure
Cloud computing infrastructure is the collection of hardware and software elements required to enable cloud-based services. It includes processing, network, and storage capacity, as well as an interface for users to access their virtualized resources. Virtual resources mirror a physical infrastructure, with components such as servers, memory, and storage clusters.
Cloud infrastructure offers the same functionality as a physical infrastructure but can bring other advantages such as lower cost of ownership, greater flexibility, and scalability. If we talk about the future of IT services, we definitely cannot omit the cloud, as it still has a lot to offer and evolve. Cloud solutions are part of the evolution of IT services.
Cloud computing technology is available for private cloud, public cloud and mixed cloud systems. It is also possible to rent cloud infrastructure components from a cloud provider, through Infrastructure as a Service (IaaS). The cloud is part of the evolution of its services. Without the cloud, a lot of information would be lost. It is part of the future of IT.
3.2 How is cloud infrastructure managed?
While this is a well-known example, cloud infrastructure or cloud architecture encompasses a broader range of platforms and environments, including private and hybrid clouds. Cloud infrastructure management includes the processes and tools needed to efficiently allocate and provide critical resources whenever and wherever.
Cloud infrastructure systems enable hardware and software integration and provide a single management platform for multiple clouds. A user interface or dashboard is a good example of such a tool.
It acts as a control plane for provisioning, configuring, and managing cloud infrastructure. Cloud infrastructure management is useful for providing cloud services to internal users, such as developers or any other role that uses cloud resources. And external customers and business partners
4. main problems in the IT area
There is no area of a company that is exempt from problems, and the IT area is no exception. Although many times these difficulties depend on the size and type of company, we can name some of them.
As we are in the future of IT, so are the security threats. The targets are varied and any company can be targeted. Therefore, the IT area must be prepared and constantly trained on a subject that can generate millions of dollars in losses for companies, and the responsibility falls entirely on the area.
Shortage of skilled workers. There is no shortage of IT professionals who are constantly updated and are also business-oriented. Sometimes, IT needs to arise in the companies, if this search is satisfied with someone external, this can generate mistrust and distrust in the area, so sometimes it can be seen as a better alternative to the training of those who already make up the department.
Many times the IT area must be the villain inside companies, mainly for the sake of security. Preventing the use of social applications or the recreational use of the Internet from the company's servers is not usually well seen among workers and the reluctance could be stronger in hierarchical areas.
5. What has been the evolution of IT services?
The transformation we are talking about has not been elusive for technology departments, but in many cases, we, have seen how they have led it. Procedures and tools to improve business processes. As a result of this transformation, they have had to reinvent processes and look for ways to improve them within the universe of technology, where new tools are emerging every day.
The technology department has been a major player becoming a generator of solutions rather than mere user support. A new way of attending to the needs of users, aimed at proposing solutions to make them more productive, generate more information from data, and make it more readily available to make the right decisions. In short, they have gone from being reactive to proactive.
The IT managers knew the company's processes, what was going well, and what was not needed, and they were the ones who knew what solutions were available in the market to improve and position their company in a strong position in their market segment.
They have had to evolve, no longer being so technical and no longer understanding the guts of the tools to better understand how they adapt to users and their needs. They have also stopped investing large infrastructure budgets to explore on-demand cloud solutions and bring cloud-based contingency solutions to enterprises.
6. How to prepare for the digital future?
Preparing for the future of business involves more than just following the latest IT trends. At Connect Tech, we know that this requires strategic investments in your IT infrastructure, as well as the adoption of best practices throughout your organization.
Are you looking for assistance to get ready for the future of IT? Connect Tech can help! You can reach us at +971 43 316 688. You can also email us at contact@connectech.dev to stay in touch.
Remember that you can send us your resume through thetalentpoint.com. On The Talent Point, you can find the job of your dreams in record time. All resumes sent to contact@thetalentpoint.com will not be stored.