In times of crisis and tight budgets, companies of all sizes, and even startups, are looking for efficient ways to meet their hosting needs. With the advent of cloud computing, a new hosting possibility was born. Although the cloud is no longer a novelty, some professionals still confuse the two hosting services.
In this article, we will explore the concepts related to web hosting and cloud hosting. In addition to reviewing some concepts about each of them. If more to say, let's look at the main points we will see in the article:
What do we mean by Web Hosting?
What types of web hosting are there?
How do web hosting and domains differ?
What do we mean by cloud computing?
What are the features of cloud hosting?
In conclusion, which of these services is better?
1. What do we mean by Web Hosting?
When you want to open a file on your computer, this content is stored somewhere on your hard drive or an external device. The same goes for all the content of a website: it has to be hosted on a web server.
The latter is a physical machine, like a computer but with much more power and with specific characteristics to store the hosting or space for one or more websites. The web server acts as a mediator between the Internet user and the server. The requested data resides and must remain active 24 hours a day, seven days a week.
Therefore, web hosting is the use you make of all or part of the resources of a web server (bandwidth, memory, hard disk space, etc.) and what allows your site to be available at any time and anywhere in the world.
1.1 What is Web Hosting for?
A conventional computer and a home internet connection would not be enough to have a website available. Even if you have enough funds to buy your web server and have a very powerful internet connection, this option is not one of the best.
Maintenance usually costs a lot of money, which decreases considerably when when having web hosting. The companies that provide this service have their web servers to store their clients' sites. All of them are located in a Data Processing Center (DPC).
A DPC is an infrastructure that has the most advanced security systems (physical, hardware, and software) and permanent internet connections. That is, 24/7, and secure so that there are no failures or errors.
2. What types of web hosting are there?
There are different types of web hosting to suit the type of target site. For example, if you want your company to build a blog, basic hosting would be ideal and more than enough.
However, if you want to set up an online store or a corporate website for a large company, you will need more professional web hosting with special features to support large amounts of content, or at least support as much as you need.
Every project is different and, therefore, different things are needed. Despite this, some types of web hosting can be adapted according to what you require. We are going to discuss the most important types of web hosting.
2.1 What is dedicated web hosting?
Dedicated web hosting uses only a single customer. This type of web hosting provides complete access to the software and hardware of the service. So it is possible to adapt its capabilities according to the needs of each user.
The client is the absolute user of all resources, from bandwidth to disk space. Dedicated web hosting is ideal for websites with a high volume of monthly traffic or that require intensive use of performance, flexibility, transfer, and access resources. It also provides greater security.
The disadvantage of this hosting is that its cost is high and it is complicated to configure and maintain. You should consider these elements before choosing the one that best suits your technological and economic needs.
2.2 What about virtual private Web hosting?
A virtual private web hosting facility a storage service that divides up virtually independently. This means that each project hosted there runs through their own operating system and resources won't share with each other.
Also, This type of hosting guarantees the resources and they can use them as they want. Get more power and flexibility compared to basic shared web hosting.
This helps to ensure that if one of the projects has a problem or a failure. It does not affect the others. In addition, it is the perfect alternative to dedicated web hosting, which is usually more expensive.
Due to their characteristics, they tend to present more difficulty to configure than shared hosting, so specialists must work with them. VPS web hosting is ideal for projects that need specific configurations and greater server resources. These do not have the possibility of hiring a dedicated service.
3. How do web hosting and domains differ?
Web hosting and domain are two terms that are often confused or taken as synonyms, but they are not. The only similarity is that both are key to a website. The domain refers to the name of your website on the Internet. Whether it is your company's or personal business page or a store or e-commerce.
It is the address that tells users where they can find your pages, just as when you give your address for people to visit you, only at a virtual level. For a browser to display all the content that the user requests when clicking on a site or page, it must know the IP address of that website and, therefore, know which web server it is hosted on.
Web hosting and domain are different services, but they need to work together. So that a website is available on the Internet at all times and from anywhere. In simple terms, web hosting is the storage needed to keep all the information of a site and the domain is the web address that takes you to that data.
If you want an even more graphic example, let us take an address and a house as a base. The infrastructure and all your material goods form your home, a space in which you live (the web hosting), but what if your house does not have an address? No one would know where it is and, therefore, they would not be able to visit you (the domain).
4. What do we mean by cloud computing?
Cloud computing is nothing more than the storage of data and applications in the cloud, which offers a higher level of scalability than traditional hosting. It is a computing model based on resource sharing, which does not require local servers to deal with the data.
Cloud providers offer their virtual storage space on demand, according to the customer's need. Instead of you paying for a fixed amount of initial space with the hosting model, you pay for what you use, speaking of the public cloud model. Using the cloud, the load balances across the cluster of multiple servers.
The information and applications contained on these servers are mirrored throughout the cluster. This means that if an individual server goes down, there is no loss of information. This redundancy increases the elasticity of the cloud making this service more resilient. With the cloud, it is unlikely that problems with applications or data will affect its performance.
In the cloud, the Front End represents the part formed by the client's computer and the application it needs to use the system. In the Back End are the servers and data storage systems that provide the cloud service. That is a visible part with which the user interacts and works, and another virtual, non-tangible part, which stores all the customer's valuable information.
5. What are the features of cloud hosting?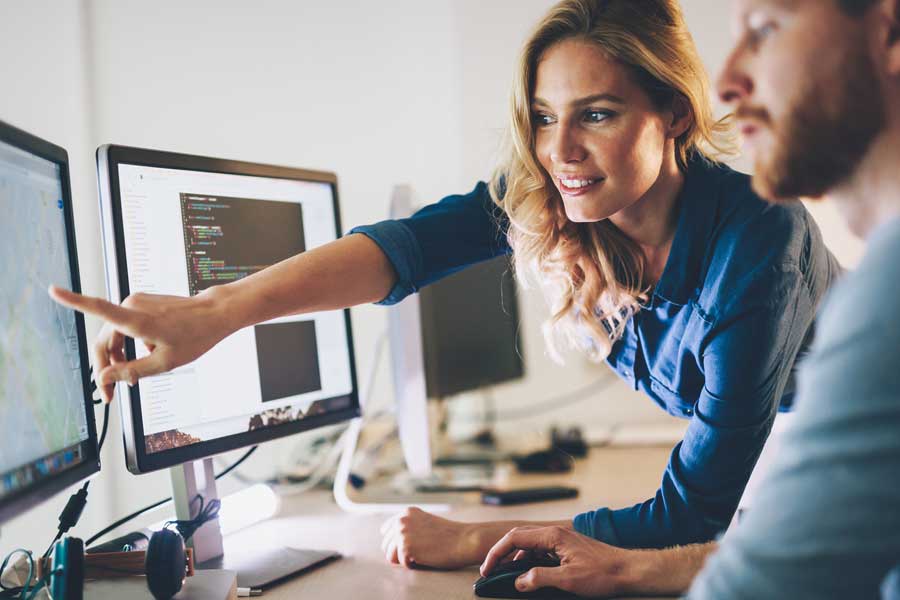 Elasticity, one of the main benefits found in cloud services, refers to the increase in data storage and processing capacity, in addition to a reduction of the structure in a simple way. The cloud can work according to the demand that your company has, increasing or decreasing easily its storage capacity.
With a wide variety of service formats and scopes, cloud solutions allow your company to scale, contracting services as you need them, without the obligation of a large one-time investment or running the risk of operating with a structure that falls short of your real needs.
As the structure used has all this scalability and elasticity of use, its cost follows the same premise, that is, you only pay for what you consume, and that positively impacts your business or your operation.
With cloud computing, it is possible to better distribute the investment according to what your company will use. Knowing how to manage the services, the reduction of infrastructure costs is quite perceptible.
5.1. Which are the types of cloud computing?
There are four types of clouds computing: public, private, hybrid, and multi-cloud. The public cloud is open to the public and requires control by the administrator. It can be accessed online by any authorized person and is usually free. On the other hand, all clouds become public when environments get partitioned and redistributed among multiple users.
Private clouds are exclusive. This type of cloud storage can have two formats: on-premise (in the same physical location as the user) or hosted externally. The private service has a great advantage in terms of security over the public one since the location of the data is within the company itself.
Hybrid cloud combines two types of storage in a public and private cloud. In this case, the user owns part of their data and shares another part. This option allows companies to customize functions and have greater flexibility to better adapt to their needs and resources. It is also more economical than having a private cloud.
Multi-cloud becomes hybrid when multiple clouds connect with some kind of integration or organization. If we talk about a multi-cloud model, we refer to a solution that combines at least two public or private cloud providers. This may or may not be integrated.
5.2. How is the security in cloud hosting?
Among the main advantages of using cloud hosting is the security in the cloud. Storing data, files, and folders in physical spaces or on hard disks is uncomfortable and risky, as they take up the workspace and can also cause domestic problems, electrical problems, or computer errors.
By backing up to the cloud you ensure that all information is stored on multiple servers hosted in different locations so that it can be used remotely under one software. In addition, most cloud storage platforms offer protection so that customer data, infrastructure, and applications do not suffer cyber-attacks, spam, or abuse.
As we have seen, one of the main cloud storage platforms is Google Cloud Platform, which stands out for taking the utmost care of the privacy of customer data. With this service, the user has exclusive control of all his or her data and, in addition, this dont use private information for advertising or commercial purposes.
6. In conclusion, which of these services is better?
When comparing hosting and cloud computing, the cloud model that comes closest to this comparison would be IaaS (Infrastructure as a Service). At Connect Tech we offer this infrastructure as a service that hosts, runs and maintains all the hardware the customer needs.
One of the main differences between the models is that the cloud can be more rapidly scalable than traditional hosting. If an application or site receives more or less traffic, cloud servers scale up and down automatically, without the need to manually add or remove server space.
Would you like to know more information about cloud-related services? At connect Tech we will help you with whatever you need. Feel free to contact us at +971 433 16 688. You can also leave us an email at CONTACT@CONNECTECH.DEV to stay in touch.
On the other hand, if you want to send us your resume you can do it by entering thetalentpoint.com and we will help you. All documents sent to contact@thetalentpoint.com will not be stored.