Choosing a good app design can be as complicated as developing it. Sometimes you do not know where to start designing or what it should look like. That is why designing an app can be a headache for many designers.
In this article, we will give you some tips to make the design of your app more enjoyable. Therefore, if you are looking to understand more about the world of app design, keep reading! Let us see:
The importance of a good presentation
Why is safety part of good design?
Why is it important to use strong colors and dark mode?
How to use blur and transparent elements to have a more pleasing design?
How to manage advanced customization for a good app design?
What else can we recommend at Connect Tech?
1. THE IMPORTANCE OF a good presentation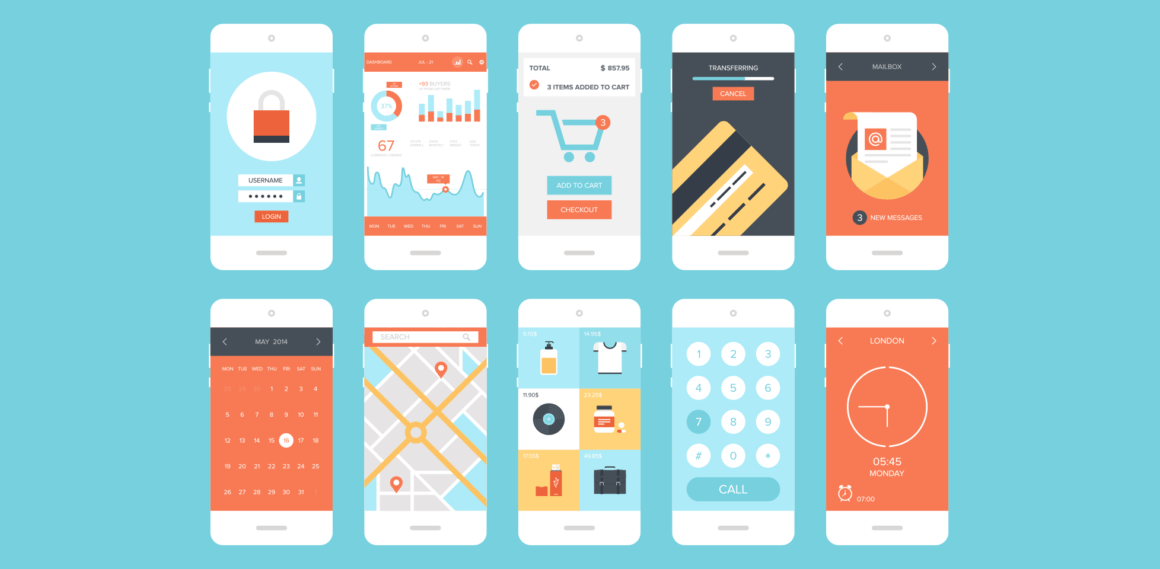 Think that the first thing your user sees in the stores is your icon, and in an unconscious way, many times we choose the design that attracts us the most. So do not forget to take care of this aspect in its creation. There are many tips and tricks to create the icon that best suits your app design but, above all, keep in mind that it must show who you are and what you do.
Your icon must be simple, clear and easy to remember, Competition is fierce. Regarding the welcome screen, we advise you to keep it simple, to communicate to your users that the app is loading and to take into account the different device resolutions. Spend as much time as you can to create these visual elements as best you can, you have to connect with your users.
Also, the content of your app is what gives value to it. It is best to adapt the design of each section to the content that you need to show in it. You have to think about the strengths of your content. If you have a lot of images to show, you should think about how to organize them so that they are attractive to your users.
There are lots of ways to do this originally. If your app is for news, think about displaying them in the way that is easiest for reading. Think about typography too, it is very important, and avoid long bold texts.
1.1 What are the most popular designs in apps?
You have to be aware of the latest trends in app design. Lately, we are seeing usable designs that mix intuitive designs with skeuomorphism. These are facing the flat design, well known and familiar among mobile app development professionals, which for the moment is still going strong among mobile applications.
But most importantly, while you can draw inspiration from successful designs, you have to differentiate yourself from the competition. Set yourself apart! This way you will get the user to see your app design as innovative and different that brings something more.
Applications are increasingly focusing on the user, on satisfying their needs and on helping them on a daily basis. That is why you have to stay up to date with the newest application trends. Here are some of the trends in app design and application development:
Voice user interfaces (VUI)
Tunneling User Experience
The pneumorphism or new skeuomorphism
Strong colors and dark mode
More fluid and legible fonts
Blur and transparent elements
Advanced customization
1.2 What are Voice User Interfaces (VUI) and Tunneling User Experience?
The immediate future lies in the fact that the visual user interface and voice will no longer integrate independently of each other. More and more people are using Google Home, Alexa or Siri.  Artificial intelligence and machine learning are revolutionizing the user experience on a whole new level. The increase in voice searches is a factor to take into account in app design.
It is no longer just a matter of creating conversational designs or including elements such as chatbots and virtual assistants. Also creating a design that simulates a humanized interaction, generating connections with users. Applications must have a VUI design that offers accurate and fast results, thus improving the user experience.
Tunneling user experience is a technique that guides users to interact with all the navigation elements on each screen they navigate through, so on until they reach the final goal. It predetermines a series of steps to reach the goal, to understand it, we could think of it as a configuration wizard that guides us to the last step.
2. Why is safety part of good design?
Mobile app development will always be better than an app that can be breached. If an app is private, users should rest assured that their data and private information are in safe hands. We have very specific data on how security issues are dealt with in companies and terms of mobile app development.
And the truth is that it is not given the importance it deserves, causing shortcomings in application security. A study indicates that 50% of companies do not dedicate any budget to the security of their mobile applications. Meanwhile, 40% of companies do not review their app code for security vulnerabilities.
On average, and in general, companies do not even review half of the apps they create, and 33% never check the security and errors that occur. This means that 1 billion records with personal data were exposed to cyber-attacks in 2014 alone.
That is why both as developers and as entrepreneurs we must take special care with security and establish a correct development of mobile apps so that they are not susceptible to getting hacked and have our customers' or users' data stolen. This is also one of the points that mobile app users value the most.
3. Why is it important to use strong colors and dark mode?
When it comes to app design, colors are a factor that cannot be left out. Every year has its own color palette, and, at the moment, we are focusing on bold and striking color schemes. This is partly a consequence of the breakthrough in terms of the development and resolution of mobile screens, which allows us to see colors at 100%.
The use of neon colors stands out, bringing vitality and dynamism to apps. In addition, these colors stand out against dark backgrounds, which are very popular in app design. Along with strong colors, another trend in app design is dark mode. With the dark mode, the user spends more time using the app.
Accustomed to applications with white and bright backgrounds, we are experiencing a drastic change, with dark tones taking precedence. What we want to achieve with this mode is that the user spends more time using the app, as it is less tiring for the eyes than with light tones, and it also saves the device's battery and looks better in low-light environments.
3.1 Why is it important to have more fluid and legible typography in contrast to the background?
It seems like it was not that long ago when mobile typography was low-resolution web fonts. However, in recent years, both iOS and Android have been working on optimizing their operating systems for more fluid, scalable and readable fonts.
In addition, the use of several different fonts is becoming more widespread to generate visual order, allowing headlines to be quickly identified from the rest of the text. As well as using fonts with different colors, this added to the colors of the application to make it easier to read.
If we consider colors and dark mode, the topography is also important in this area. Another side effect of larger screens and technological innovation is the use of typography to add beauty and expression to application design.
4. How to use blur and transparent elements to have a more pleasing design?
One mobile app design trend that adds usability to applications is background blur. While the crisp background may appear to provide a clean and uninterrupted experience, it sometimes causes usability issues.
Depending on the background selected by users for their devices, as well as the number of icons or widgets hosted on it, the lack of opacity makes it difficult to read. Incorporating the blur effect into the design makes applications more readable while preserving the feeling that the app is in the background.
Along with background blur, another trend in app design is also developing, transparent and semi-transparent elements. Transparencies are useful for gradients, overlays and bursts of color. With this we get a light page, that is, although it contains a lot of information, it does not look heavy, something very important when talking about mobile devices.
4.1 Why use 3D elements and rounded shapes?
3D elements are already a reality in the design of mobile applications. This type of object allows a real interaction with the user, provoking emotions. They allow products and services to be presented in a more attractive and interactive way, enhancing the user experience.  3D objects make the application look more realistic and futuristic.
Rounded and imperfect shapes make the application more interactive. The idea is to introduce simple, imperfect, asymmetrical and smooth shapes into the application interface. This breaks with the cold environments that applications used to have.
This type of shape brings great dynamism and personality to the applications, evoking feelings of comfort in the users. This trend is especially used in apps that generate stress in users, such as finance and construction.
5. How to manage advanced customization for a good app design?
This is one of the strongest trends in app design. Leveraging technology to design highly customizable applications brings great satisfaction to the user. The fact that the user can customize their experience with the application makes them feel more in control.
Personalization has many different areas, some examples are:
The user's location: Providing relevant content based on location will make the user get the most out of it.
Interface design: Providing the user with the ability to customize typography, font size, colors, etc. can greatly enhance the user experience. Keep in mind that there will be users with poor eyesight, color blind or left-handed. And being able to adapt the content strongly encourages their interaction with the app.
The content offered: The fact that the application offers one content or another depending on the user's tastes is a great advance. This is possible thanks to artificial intelligence (AI) which makes it possible to offer consumers content suited to their tastes. One example is Spotify, which creates personal playlists based on the music listened to.
These are just a few examples of personalization, but the reality is that with the development of machine learning and artificial intelligence the possibilities for personalization are enormous and it is a trend that is important to take into account in the application design.
6. What else can we recommend at Connect Tech?
App design plays a very important part in the development of an app. Remember that what you want to achieve customer's first choice. In addition, choosing a design that fits the personality of your brand is also a factor to consider and is something that Connect Tech recommends.
On the other hand, our agency offers you the best strategies to develop your app. This strategy involves developing the app from the beginning, through the creation of the design, testing and finally its launch in an app store.
Are you looking for someone to design the entire structure of an app? Look no further, Connect Tech is your best option. You can contact us by sending us an email at CONTACT@CONNECTECH.DEV.
If you would like to submit your resume you can do so through thetalentpoint.com. All documents sent to contact@thetalentpoint.com will not be stored in any way.